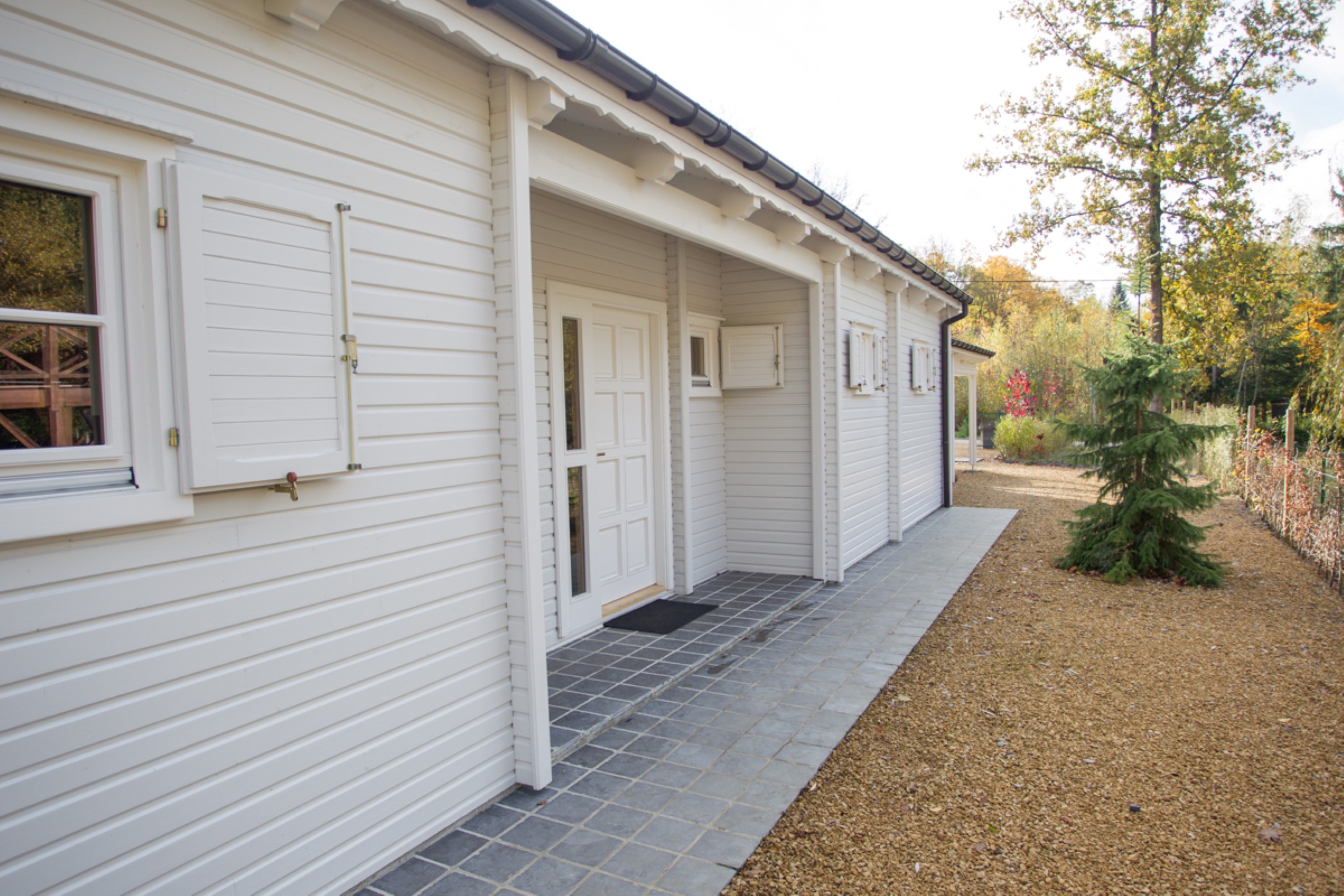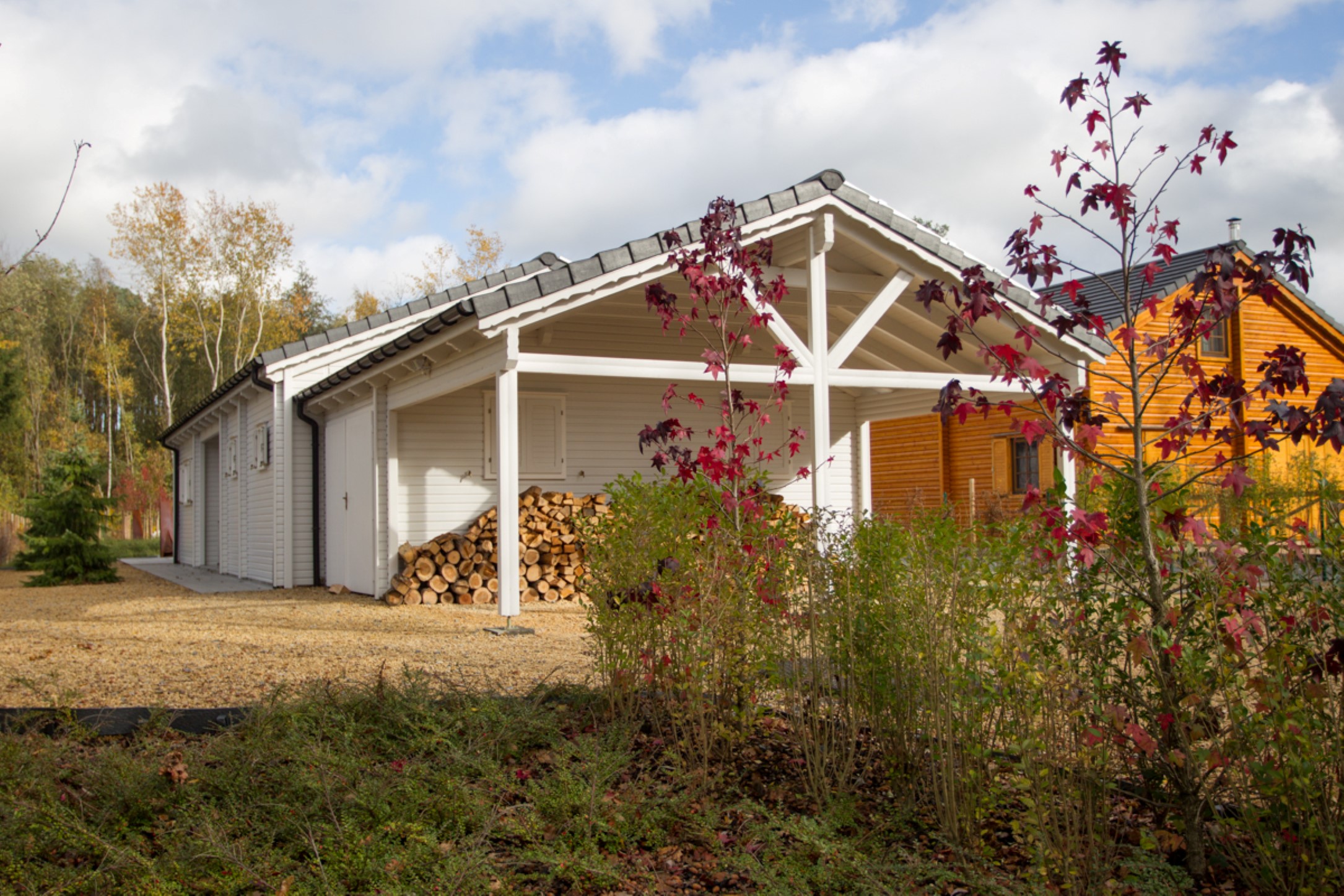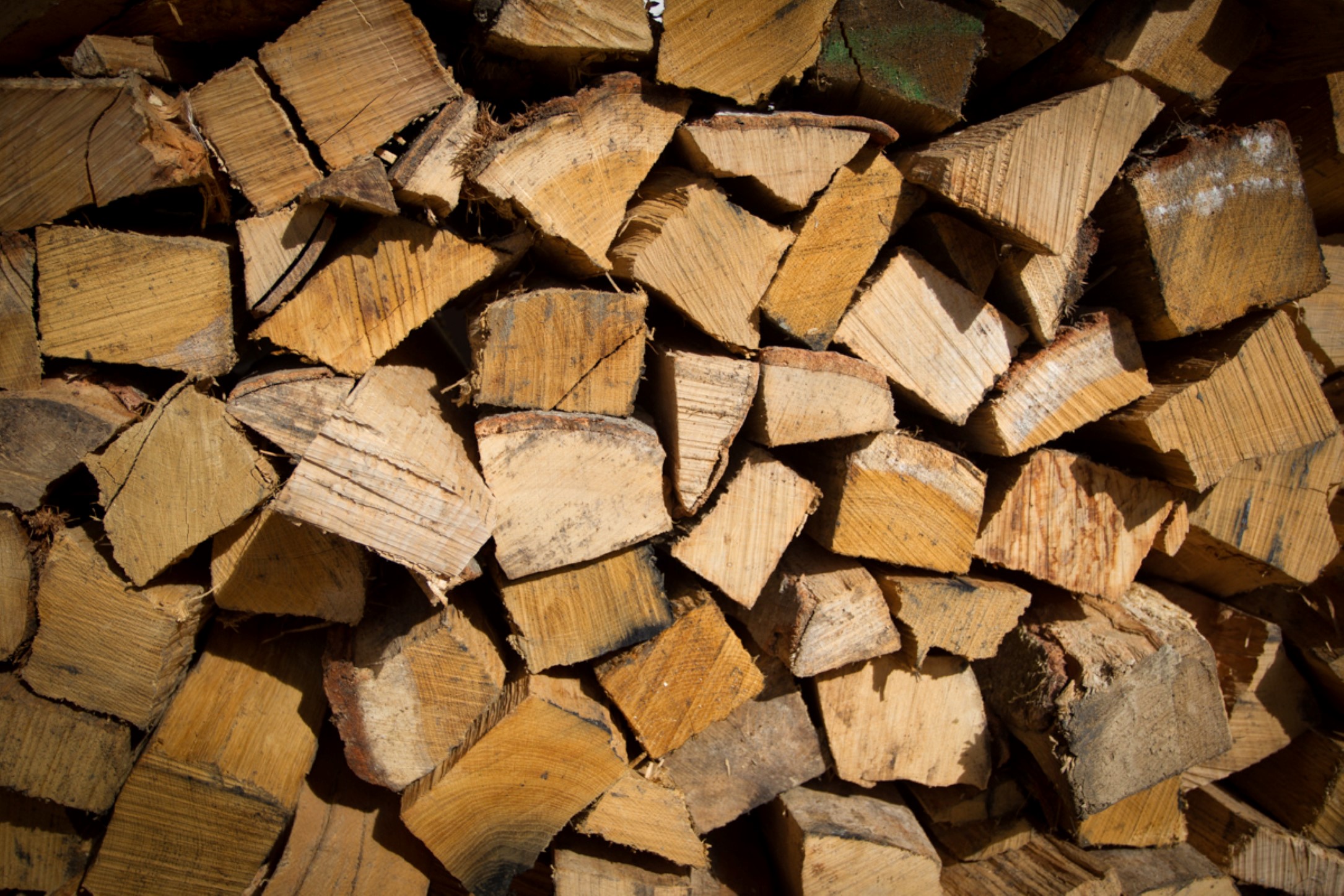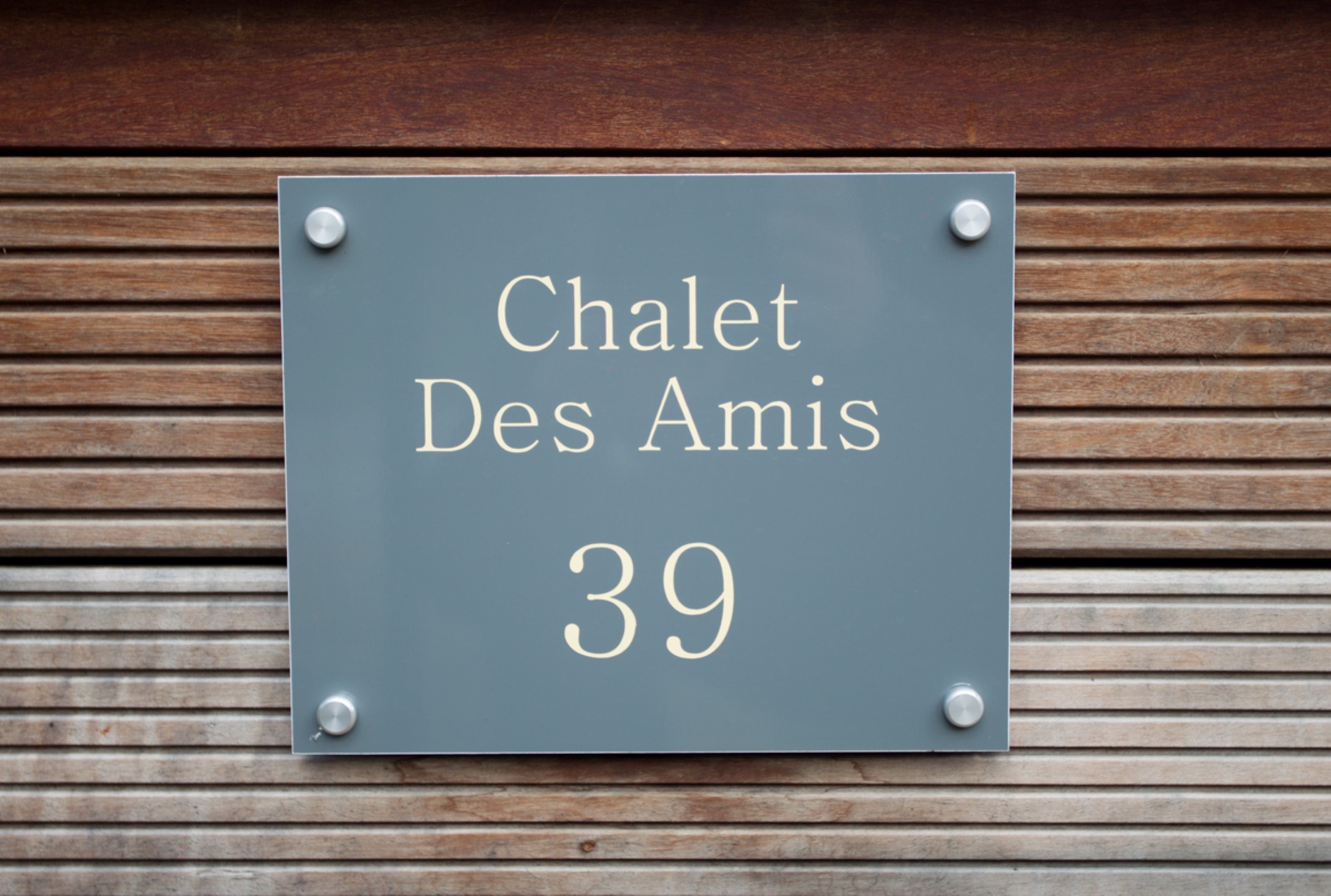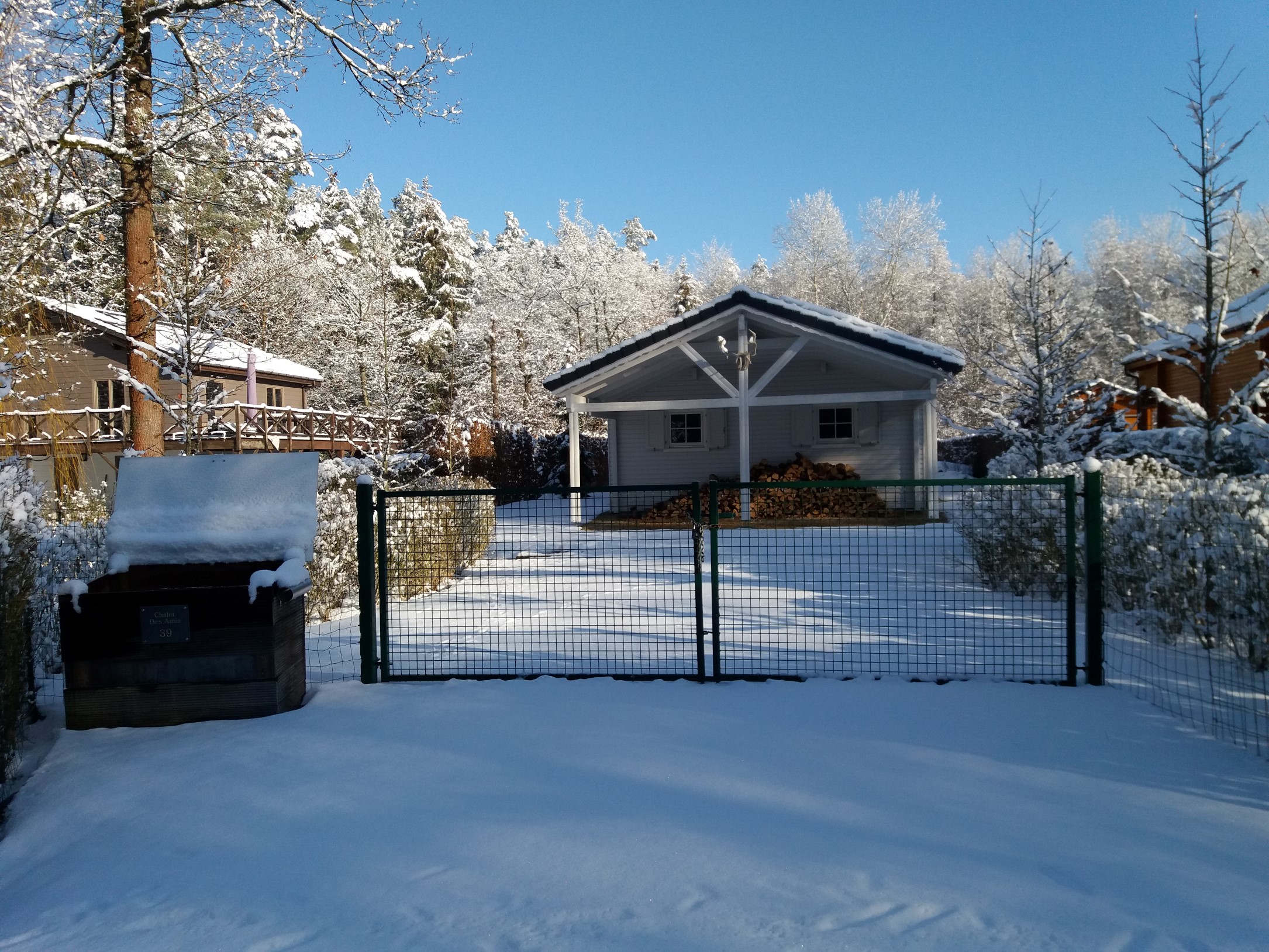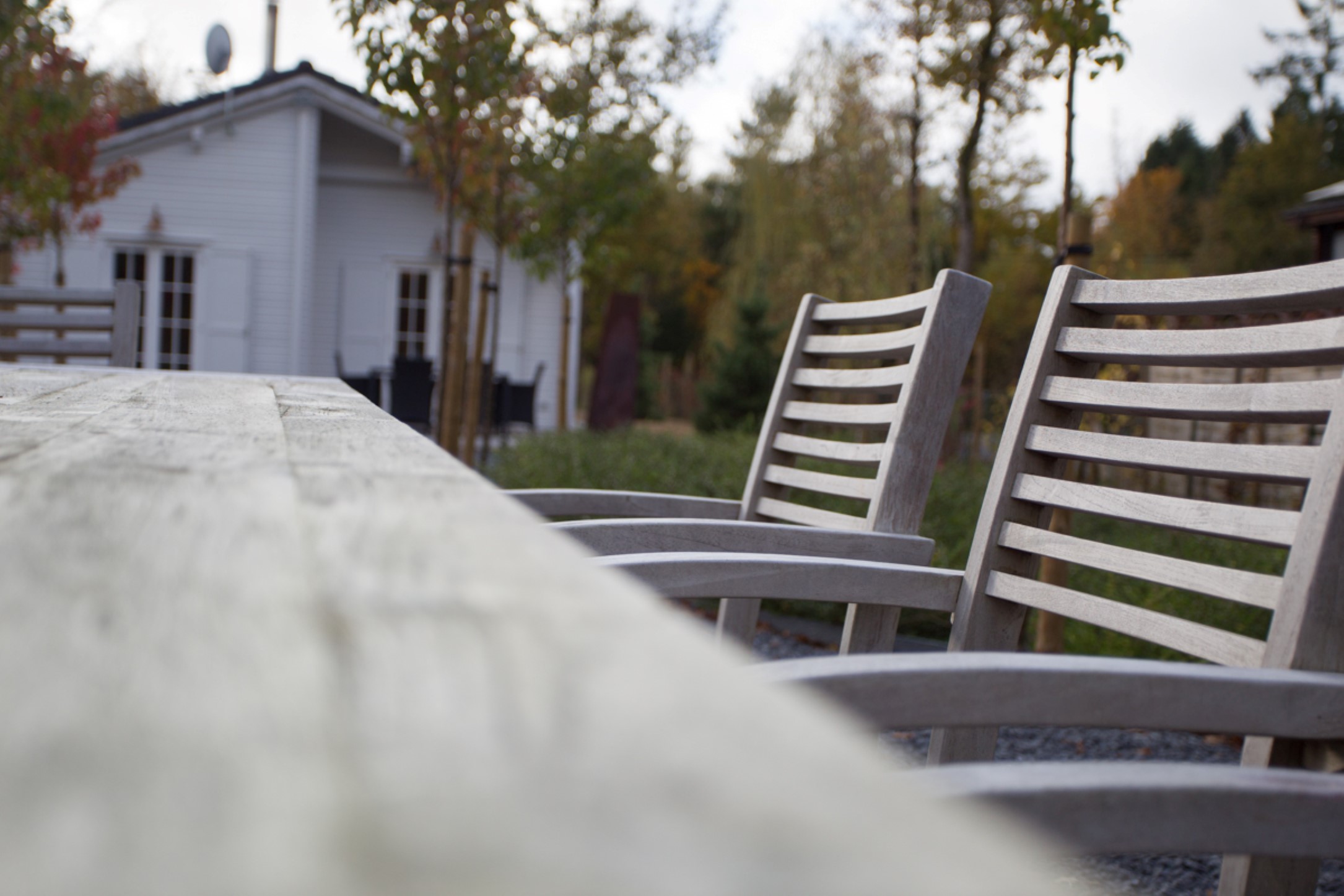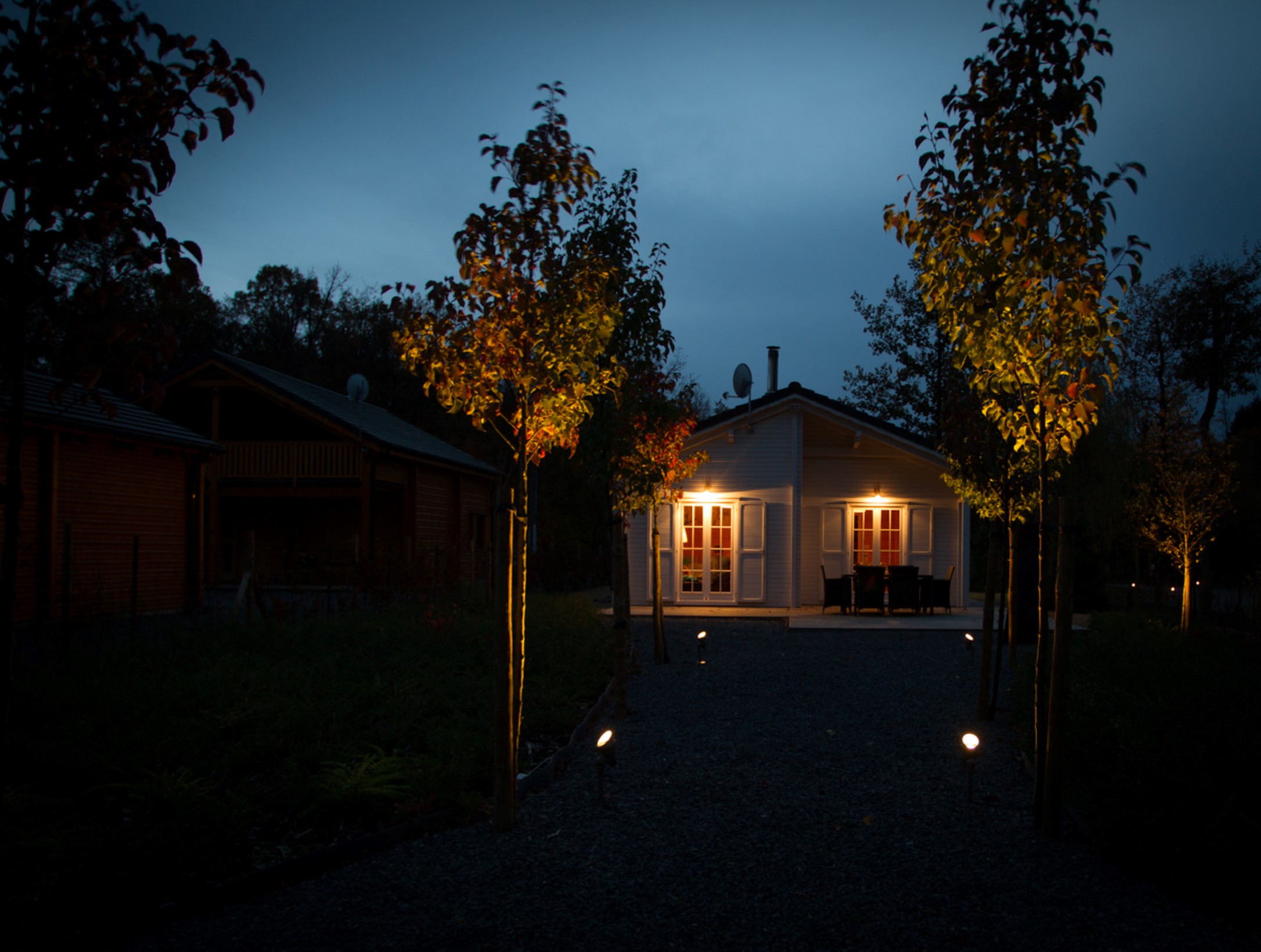 Chalet Des Amis
Chalet des Amis is a chalet built in 2010. The chalet is at Erezée, a beautiful place in the Ardennen and the Famenne regions. The area is of natural beauty with beautiful viewpoints, hilly forests and steep rocks. There is always a corner to discover, even for the residents.
Chalet des Amis is only 5 minutes from the centre of Hotton and 15 minutes from Barvaux and Durbuy. A stay (long or short) in the area of Durbuy is ideal for both quiet, relaxing and more sporting activities. Gastronomy is also no problem. There are plenty of restaurants and bars for a simple or more special dish that can be tasted with friends.
For more information you can always visit the website of Hotton at www.hotton.be.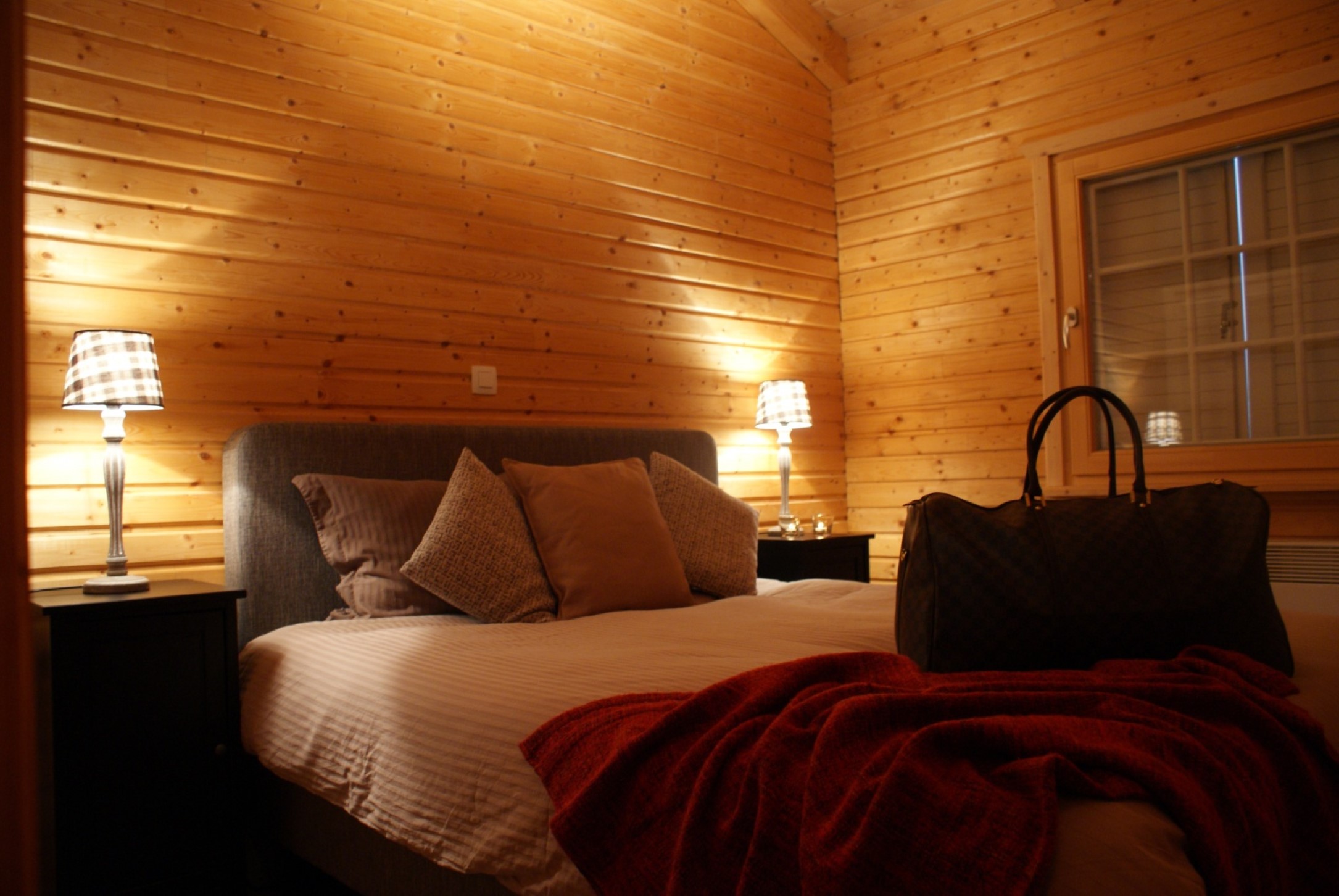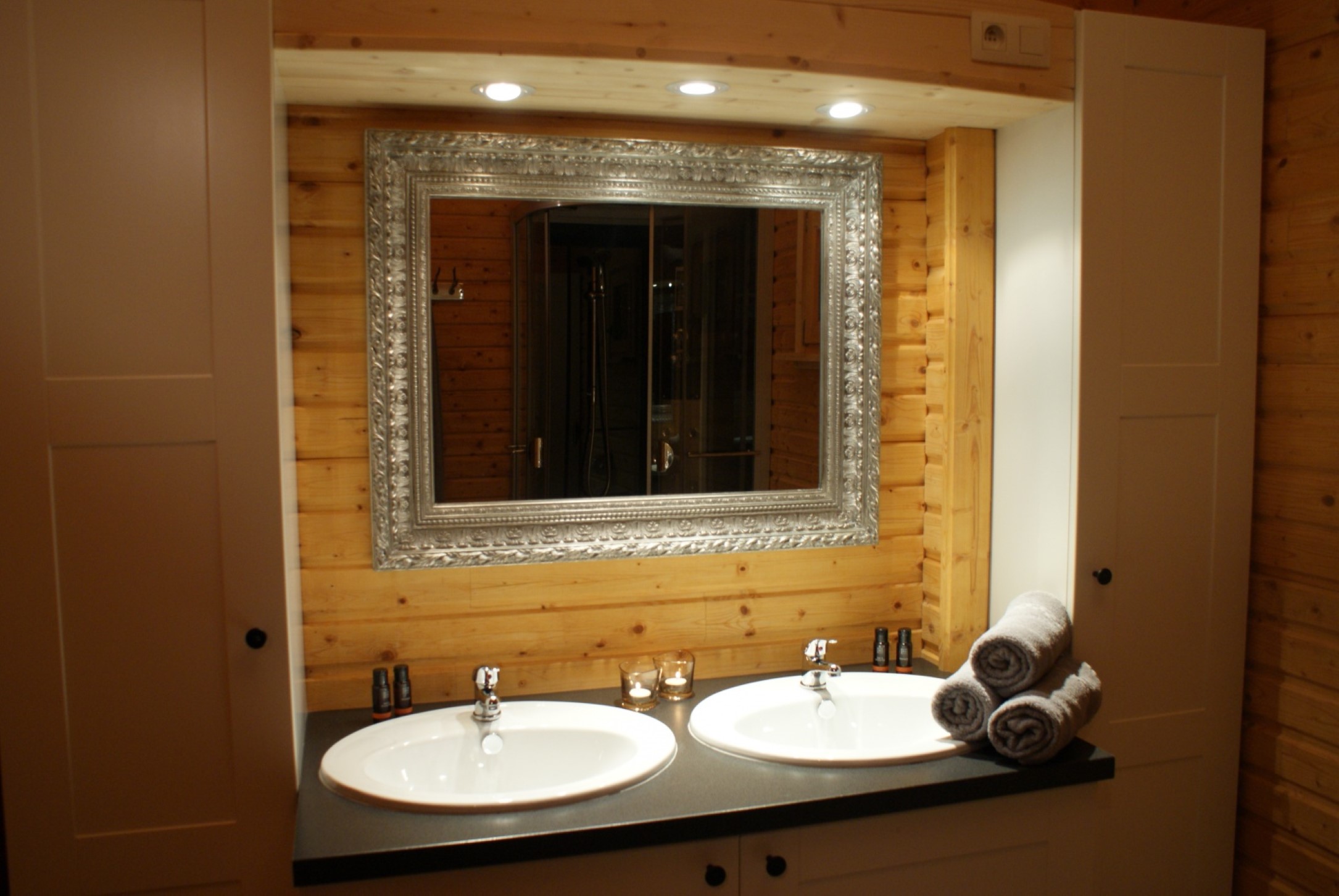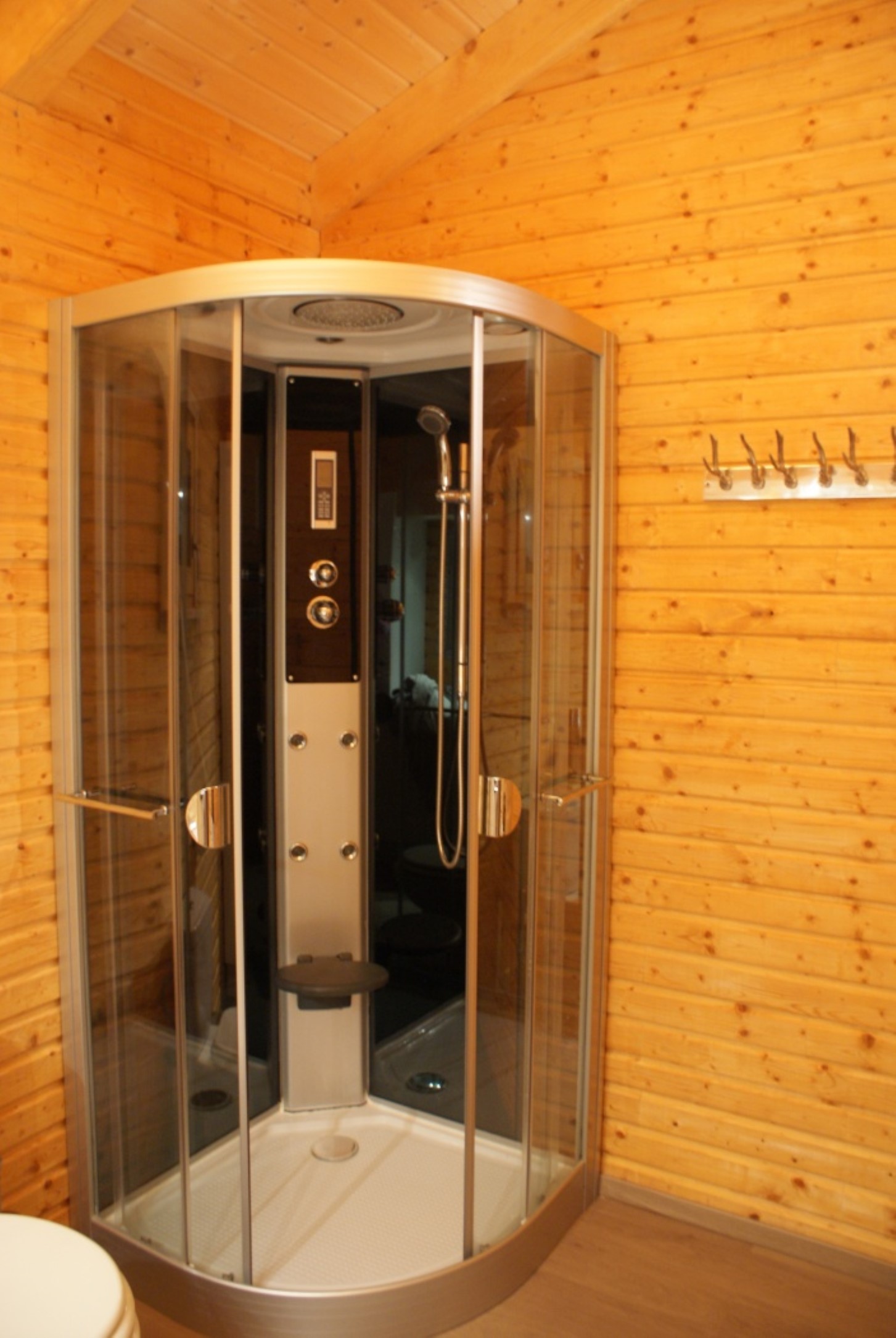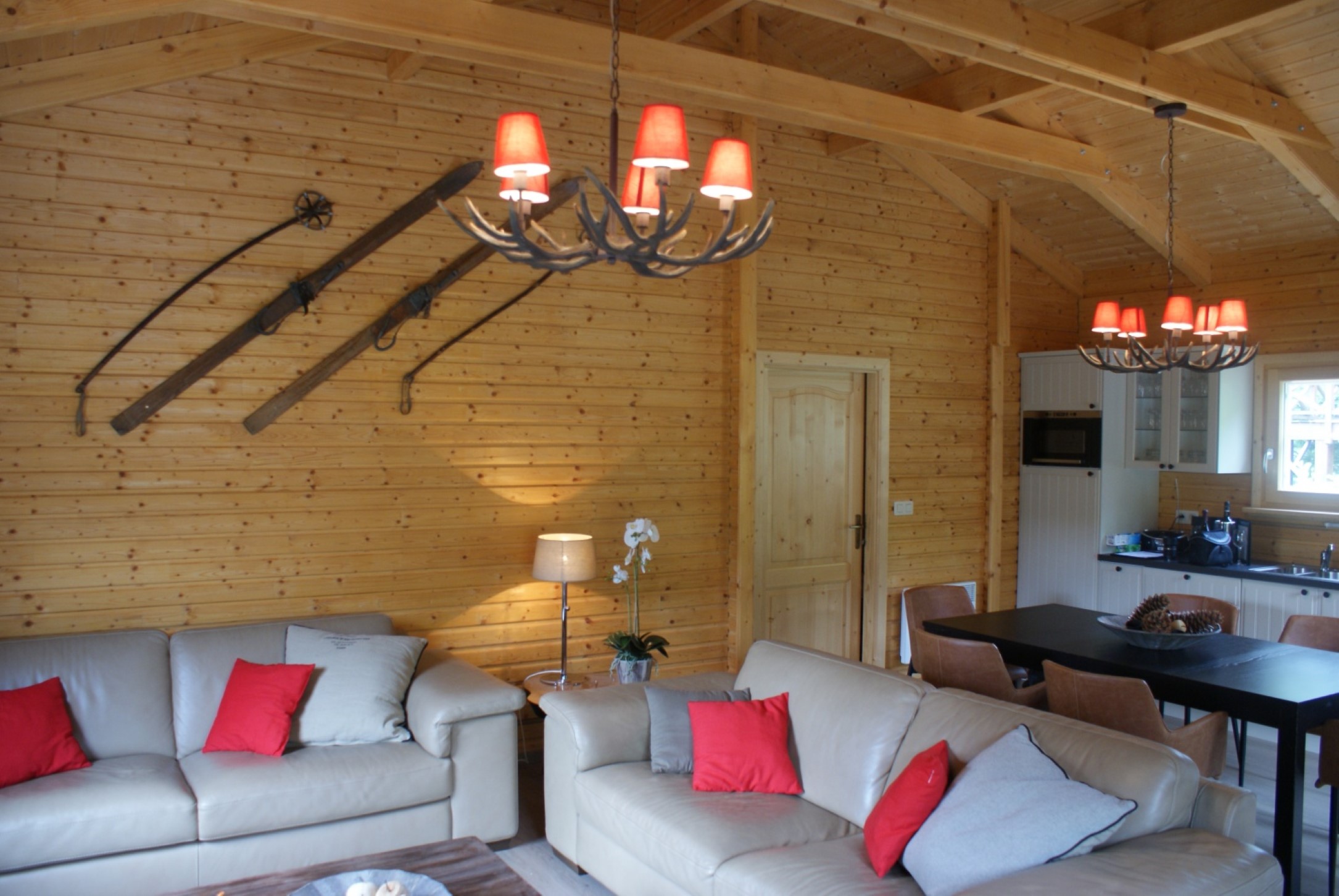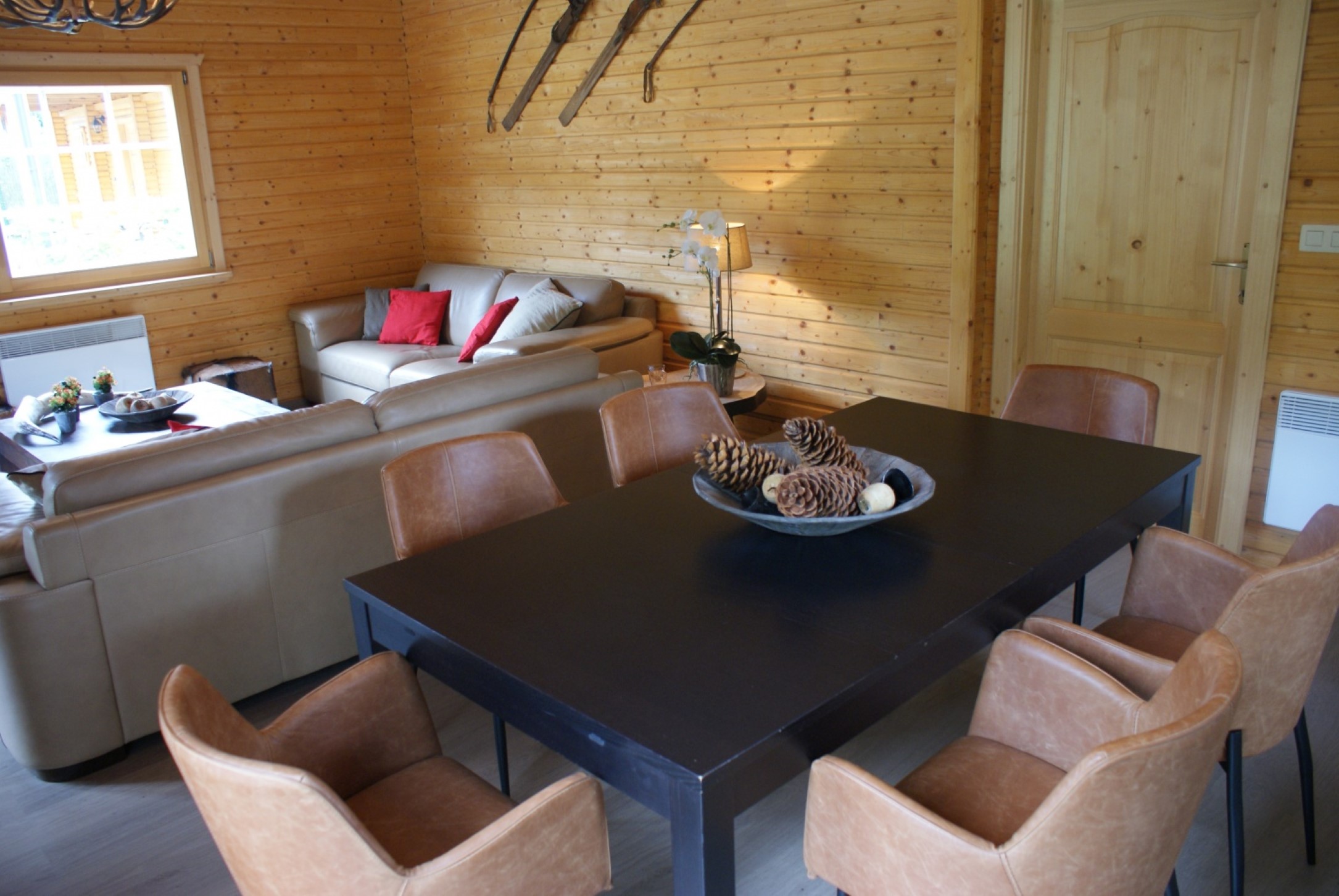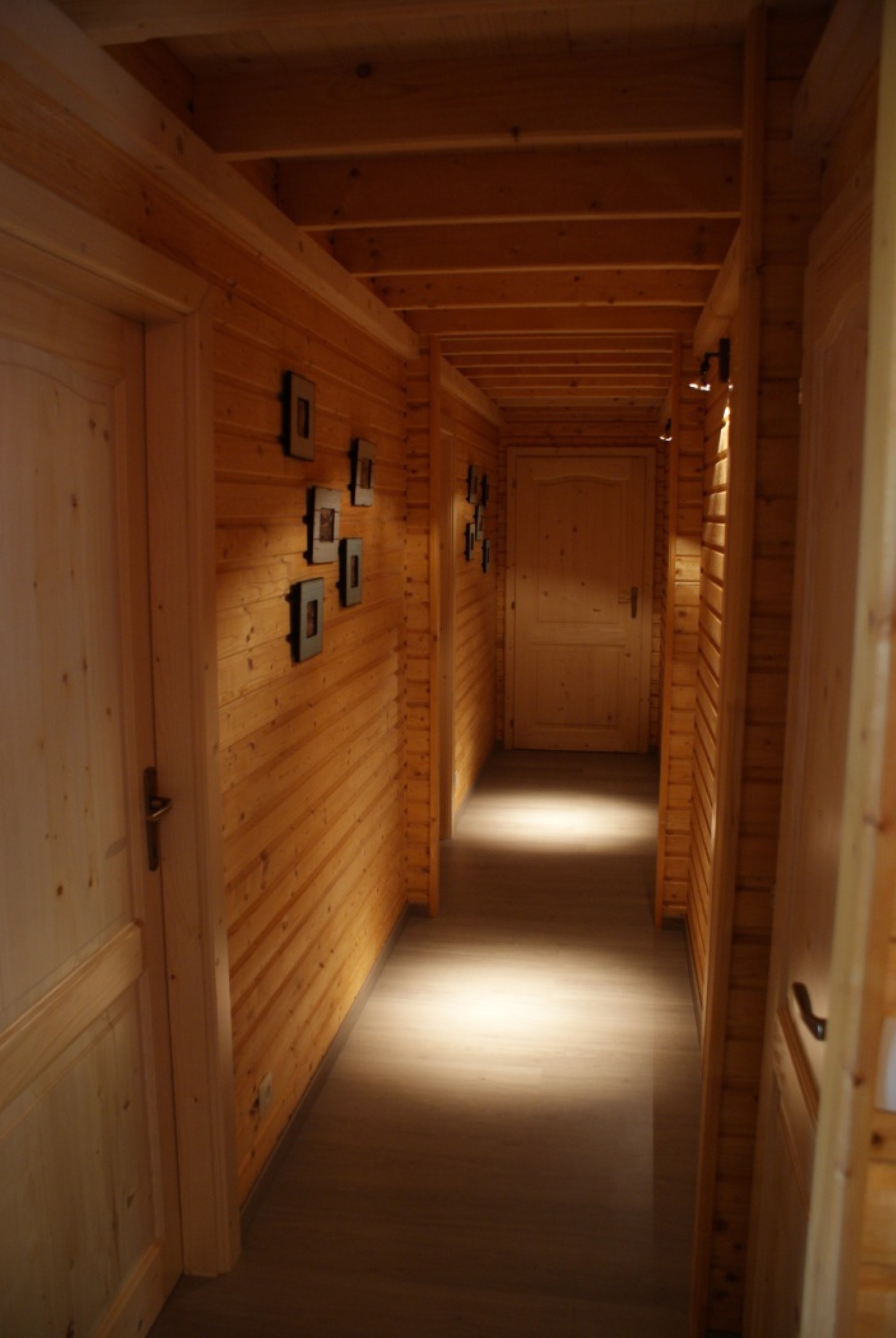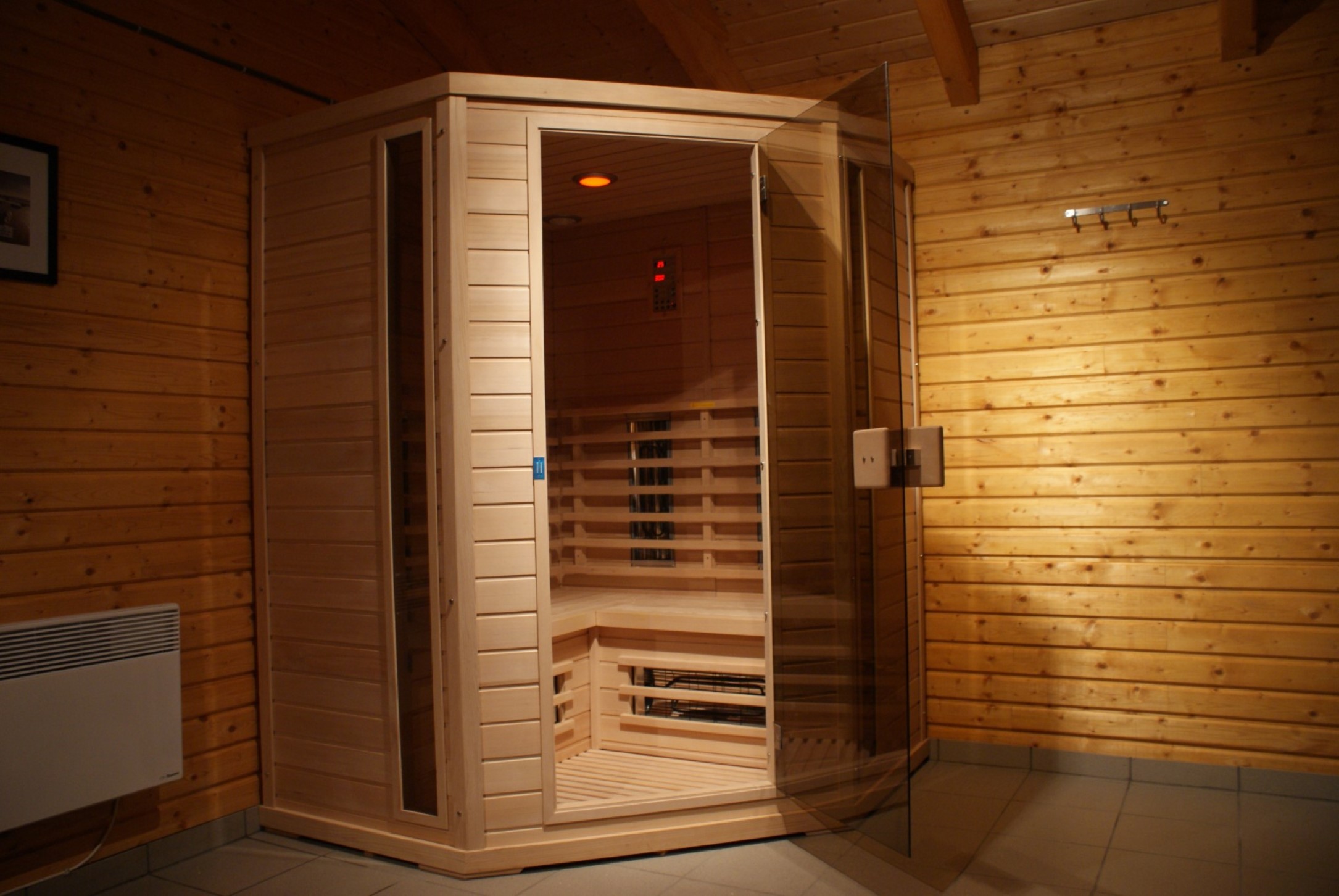 Chalet
A maximum of 7 people can stay in the chalet.
The chalet has a spacious living room with TV and a cozy lounge corner. The wood fire ensures warm cosiness in winter days. The built-in kitchen is equipped with every comfort (oven, dishwasher, coffee maker, toaster, electric stove, kitchen robot, fridge with freezer, …).
There are 3 bedrooms: 2 bedrooms with double bed and 1 bedroom with double bed + a mezzanine under the roof with 1 single bed.
The spacious bathroom is equipped with 2 sinks, toilet, hairdryer and a spacious shower.
There's also a toilet, storage room with washing machine and dryer. Each room has electric heating. The living room has electric heating and a wood stove.
Outside there's a large wooden terrace and a large garden with a parking space for 4 cars.
There's also an infrared sauna, where you can relax and enjoy.
The chalet is equipped with air conditioning (with which you can cool as well as heat) in every bedroom.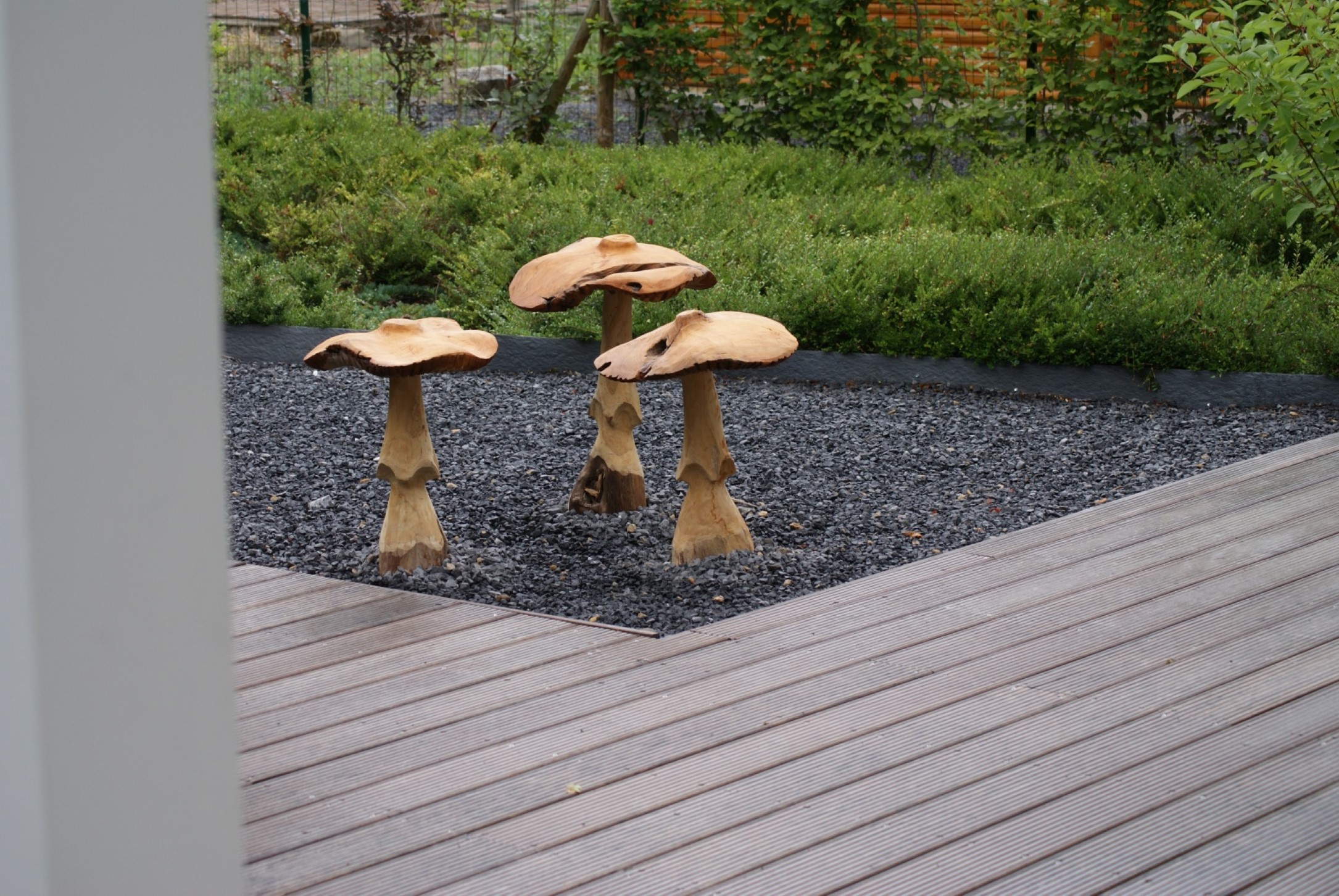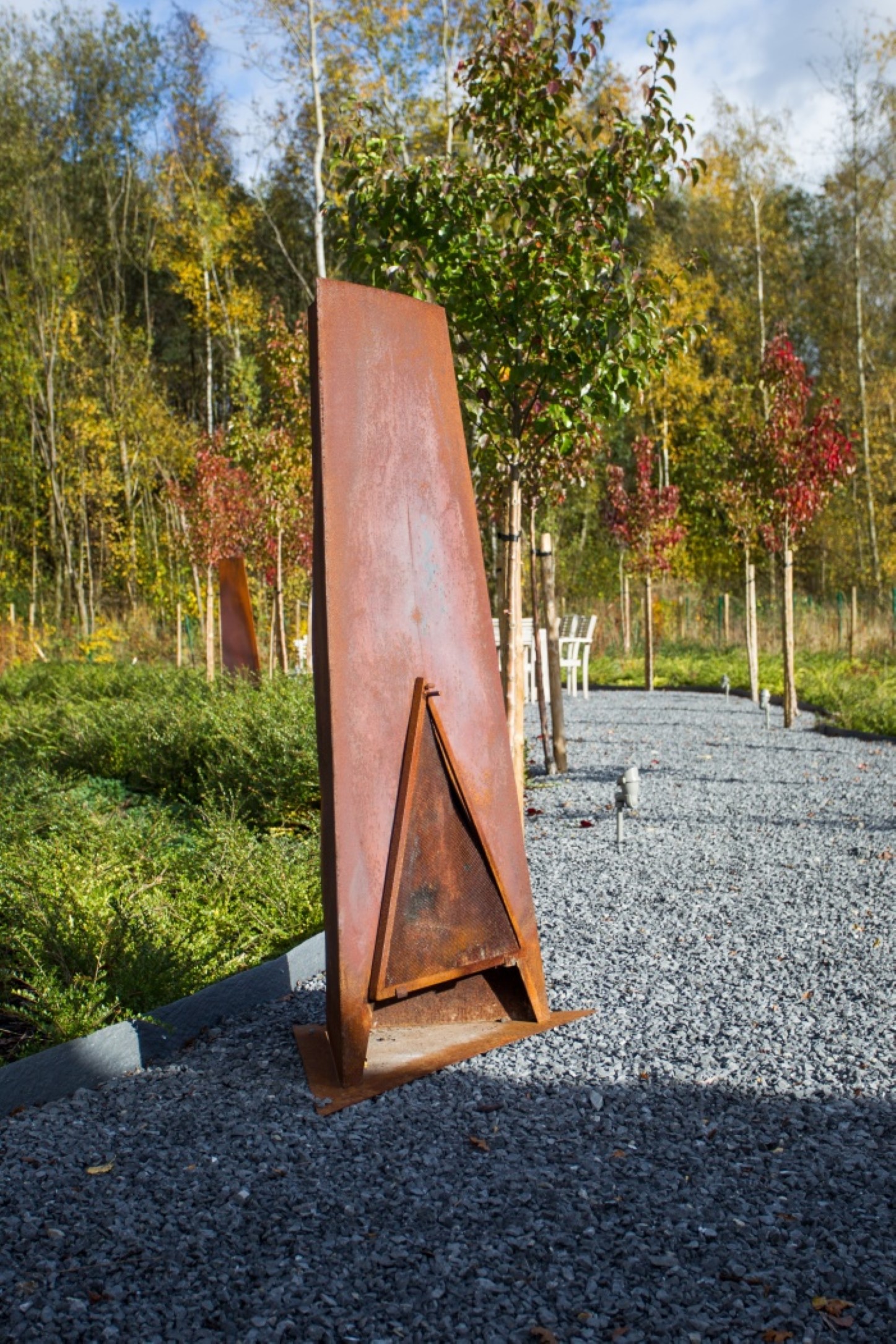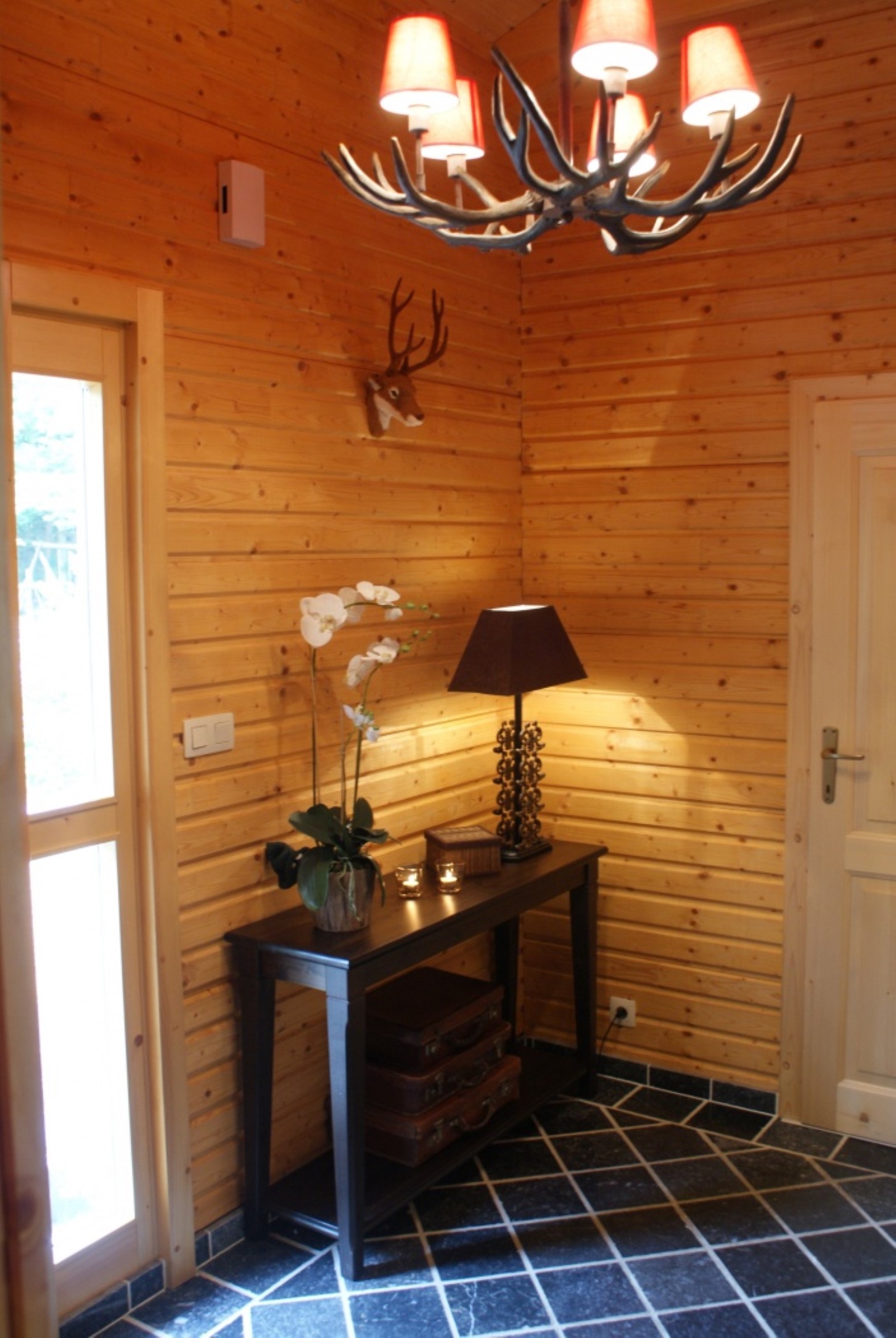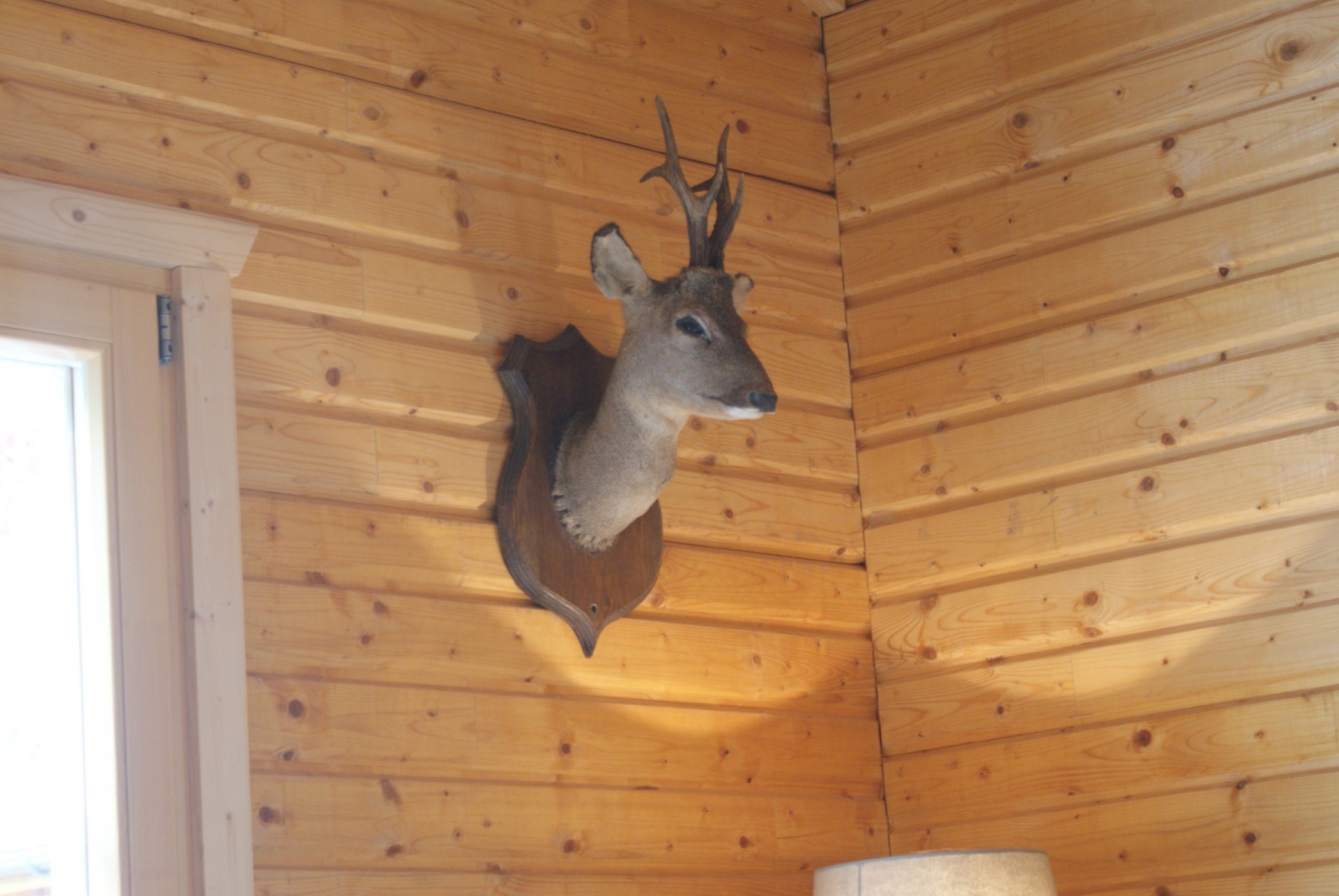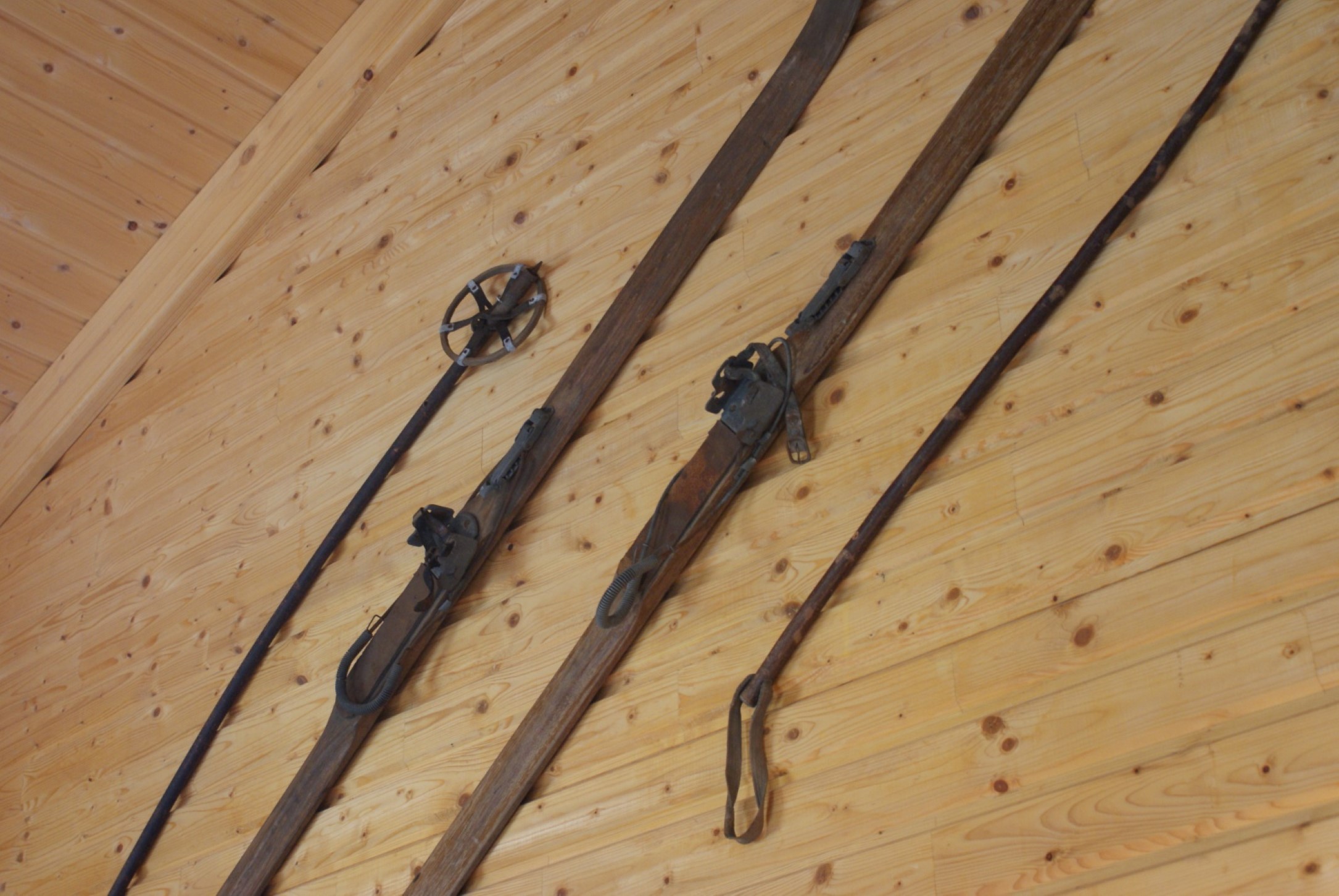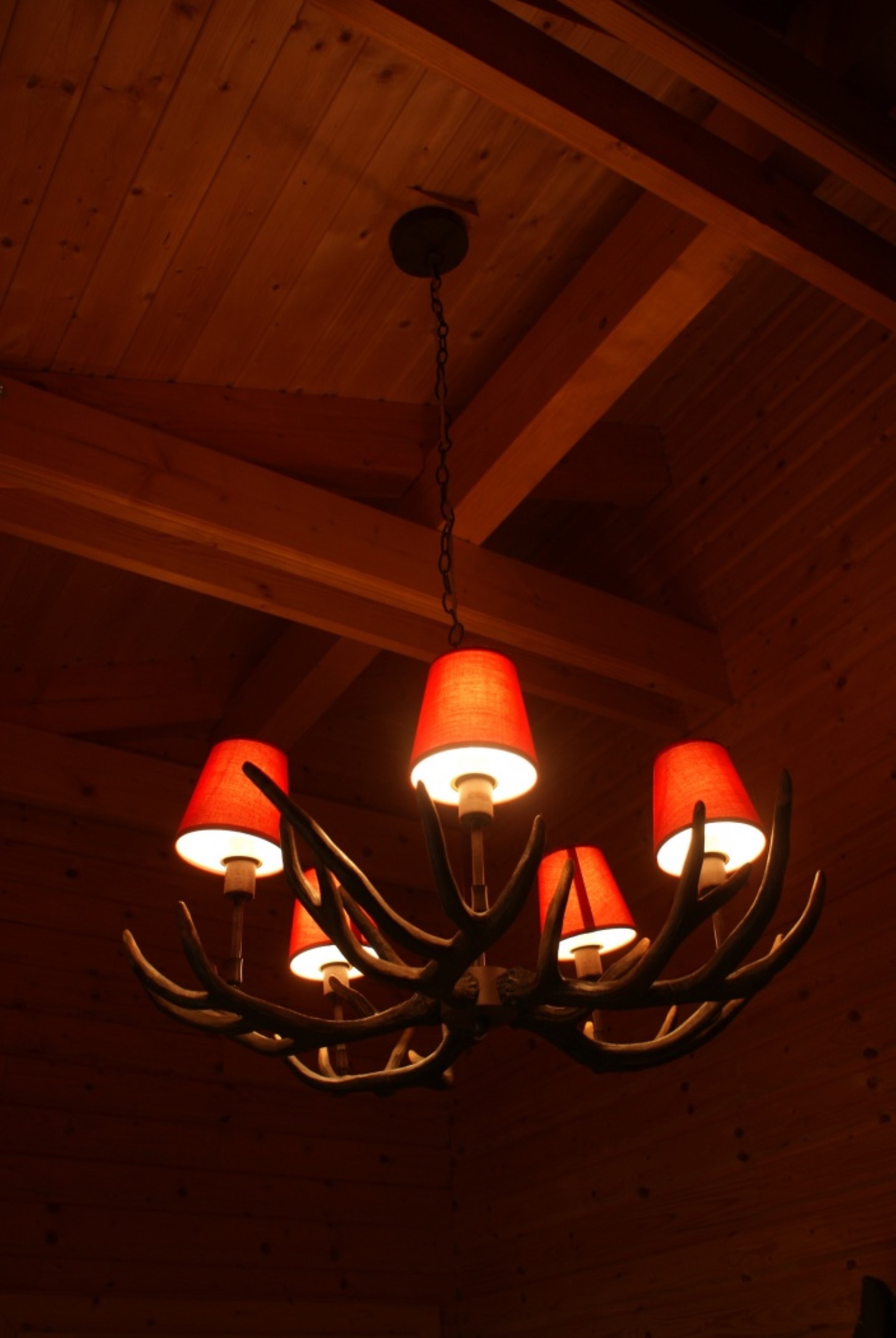 Route
Chalet des Amis
rue Vivier Del Haie 39
6997 EREZEE (BELGIUM)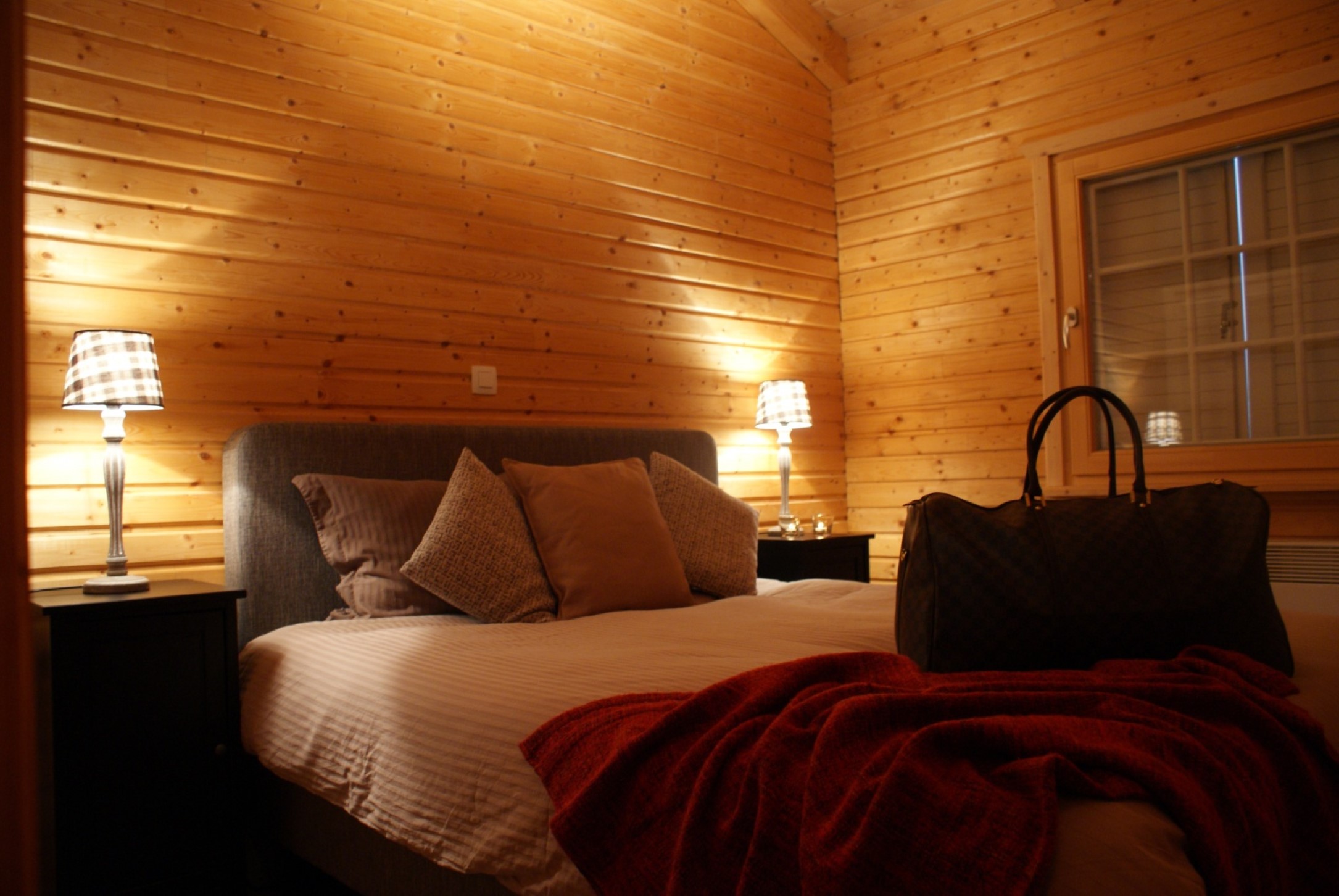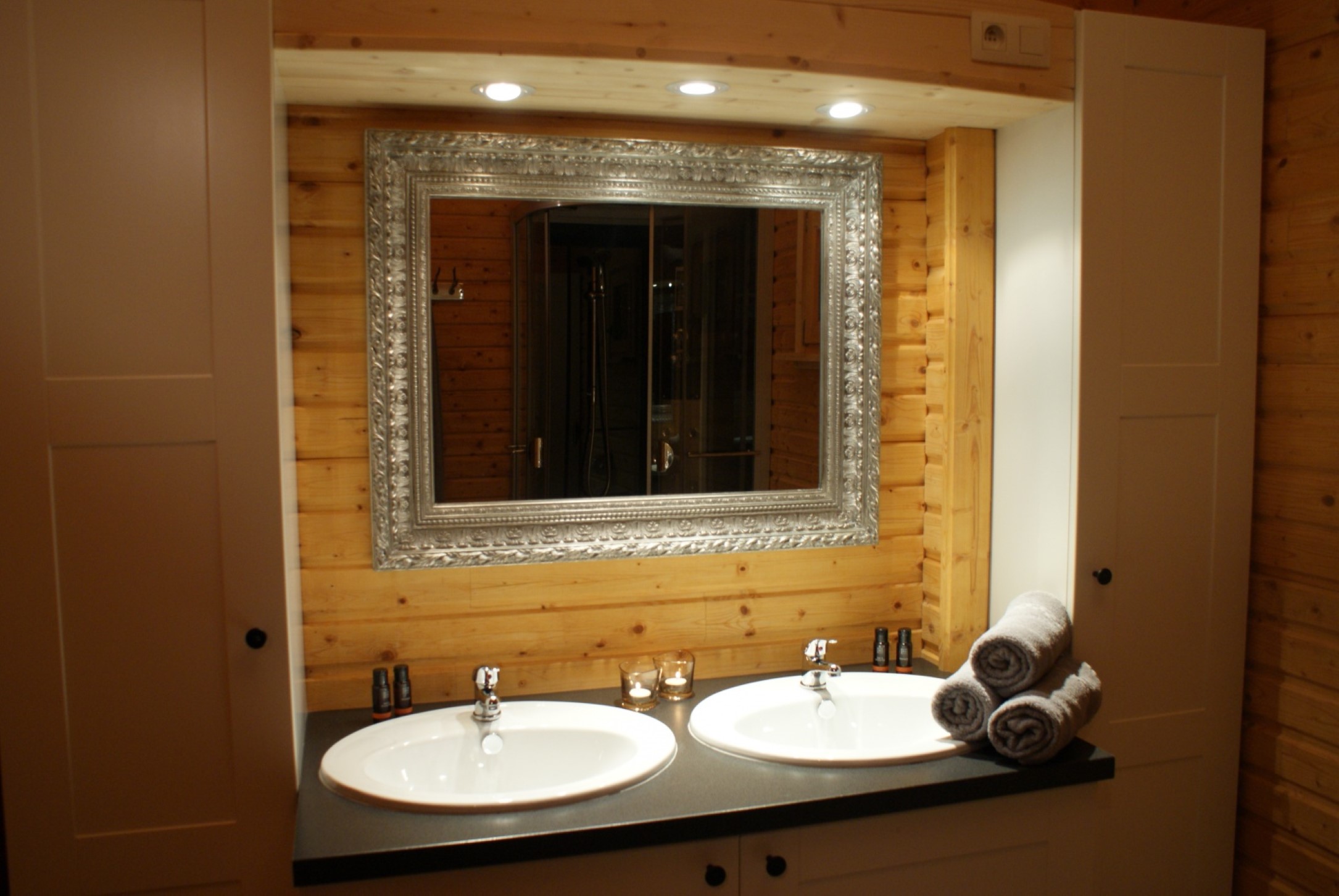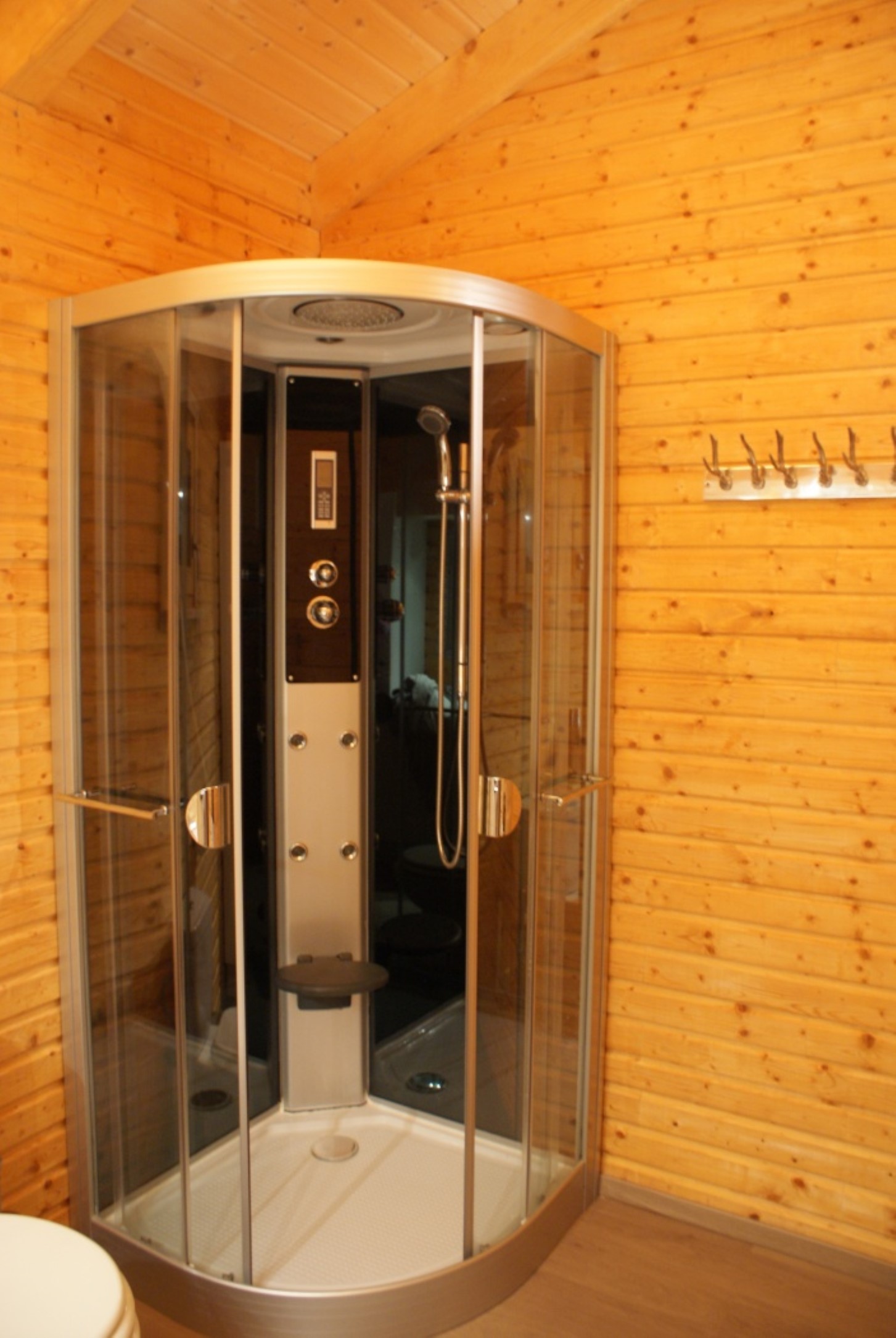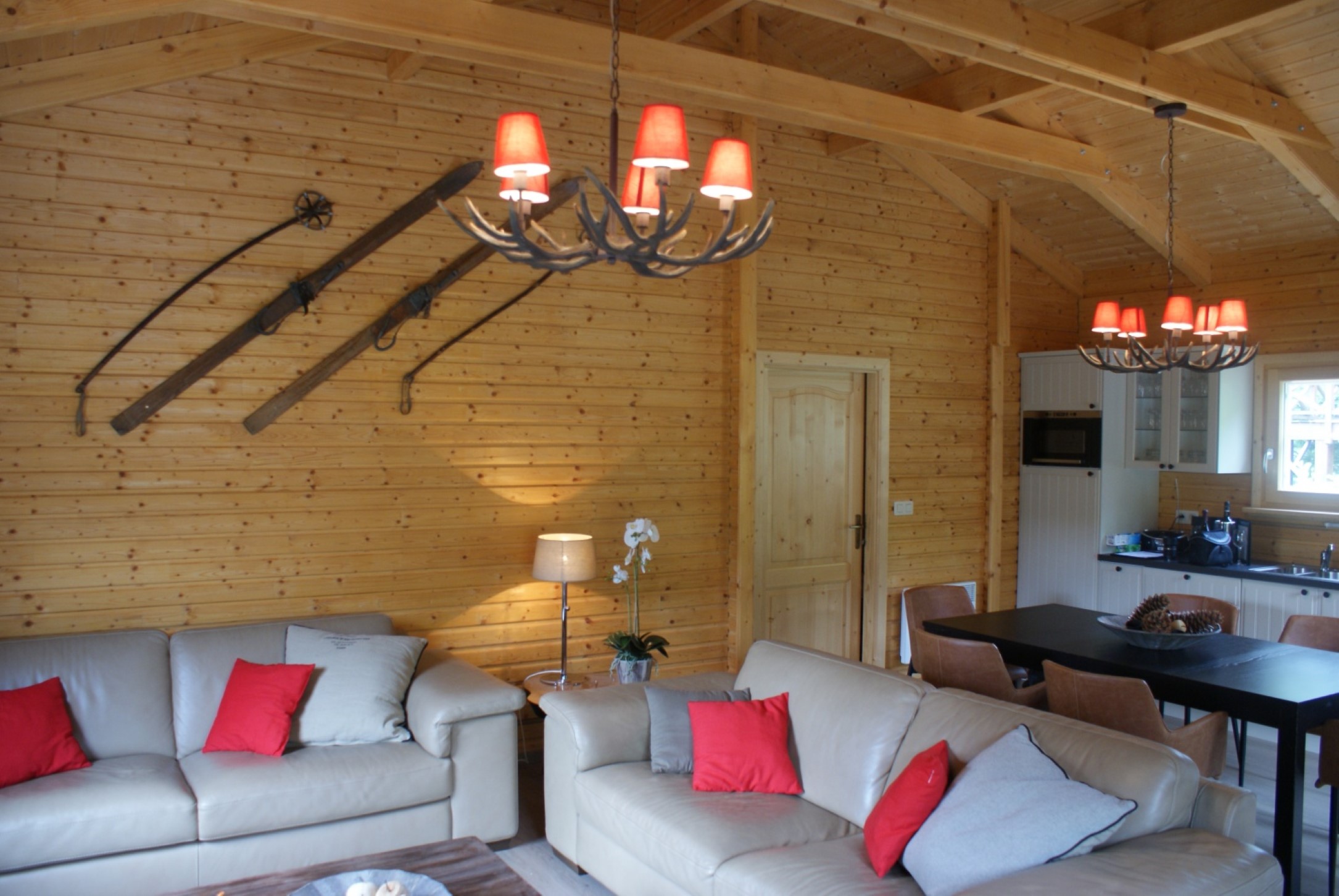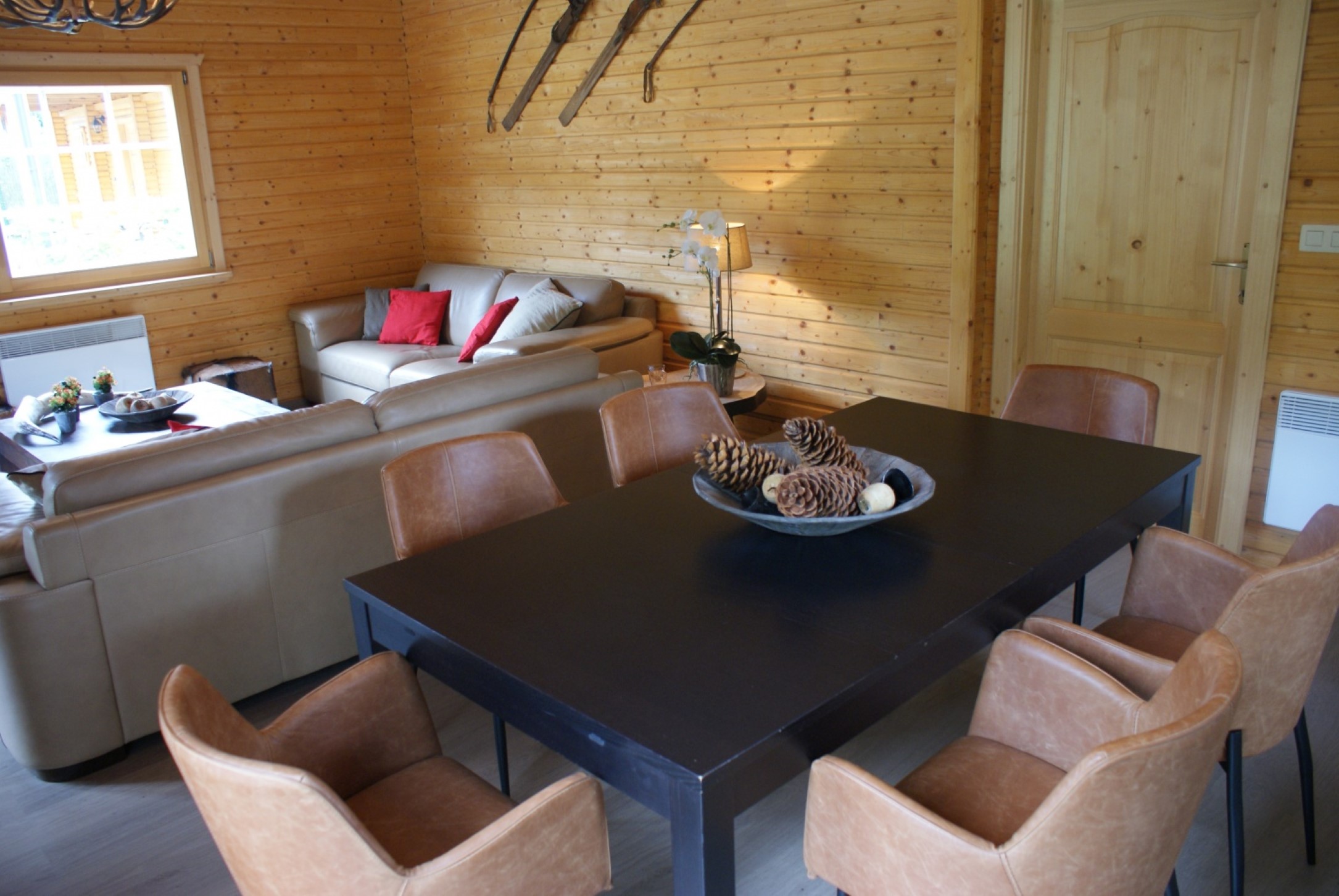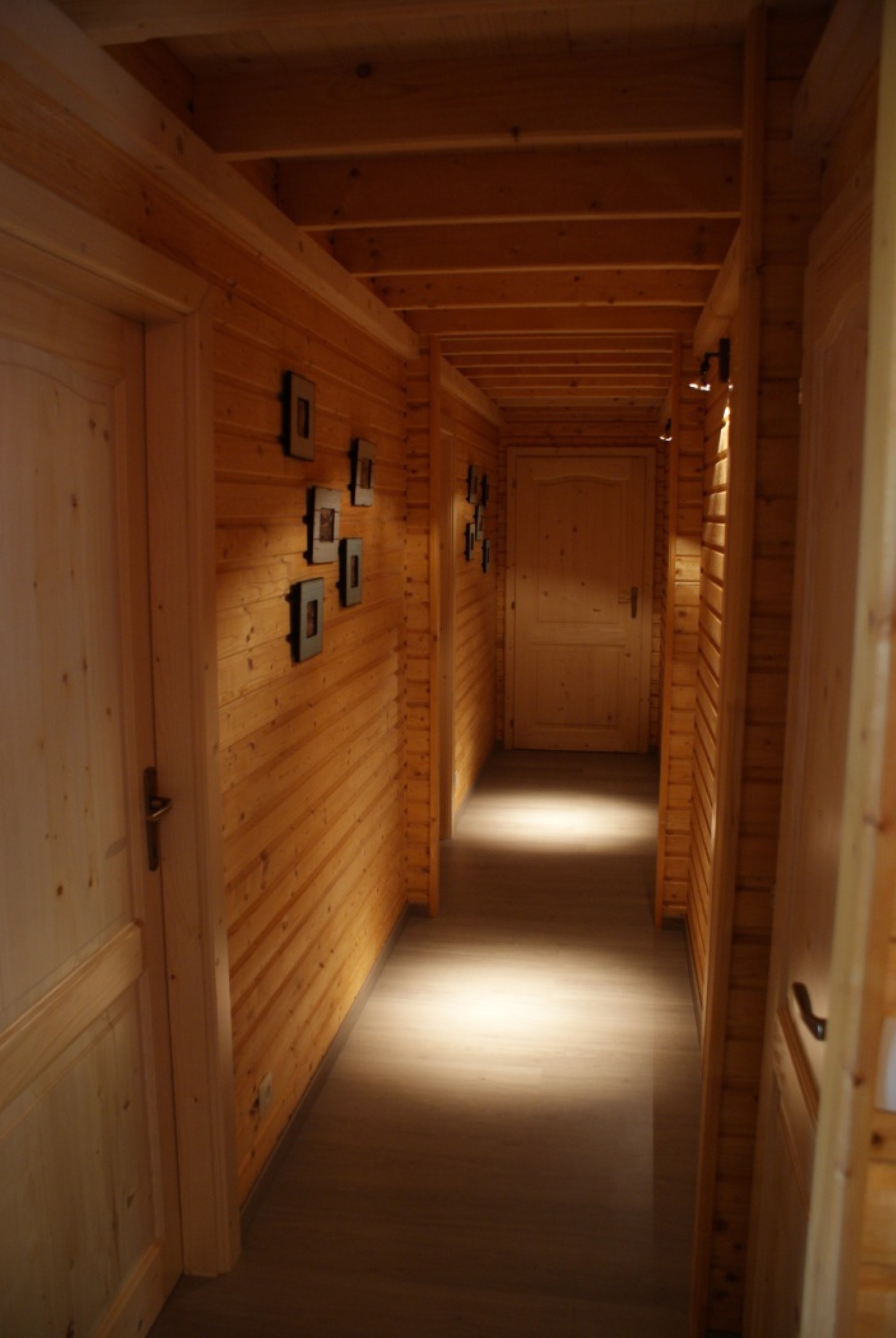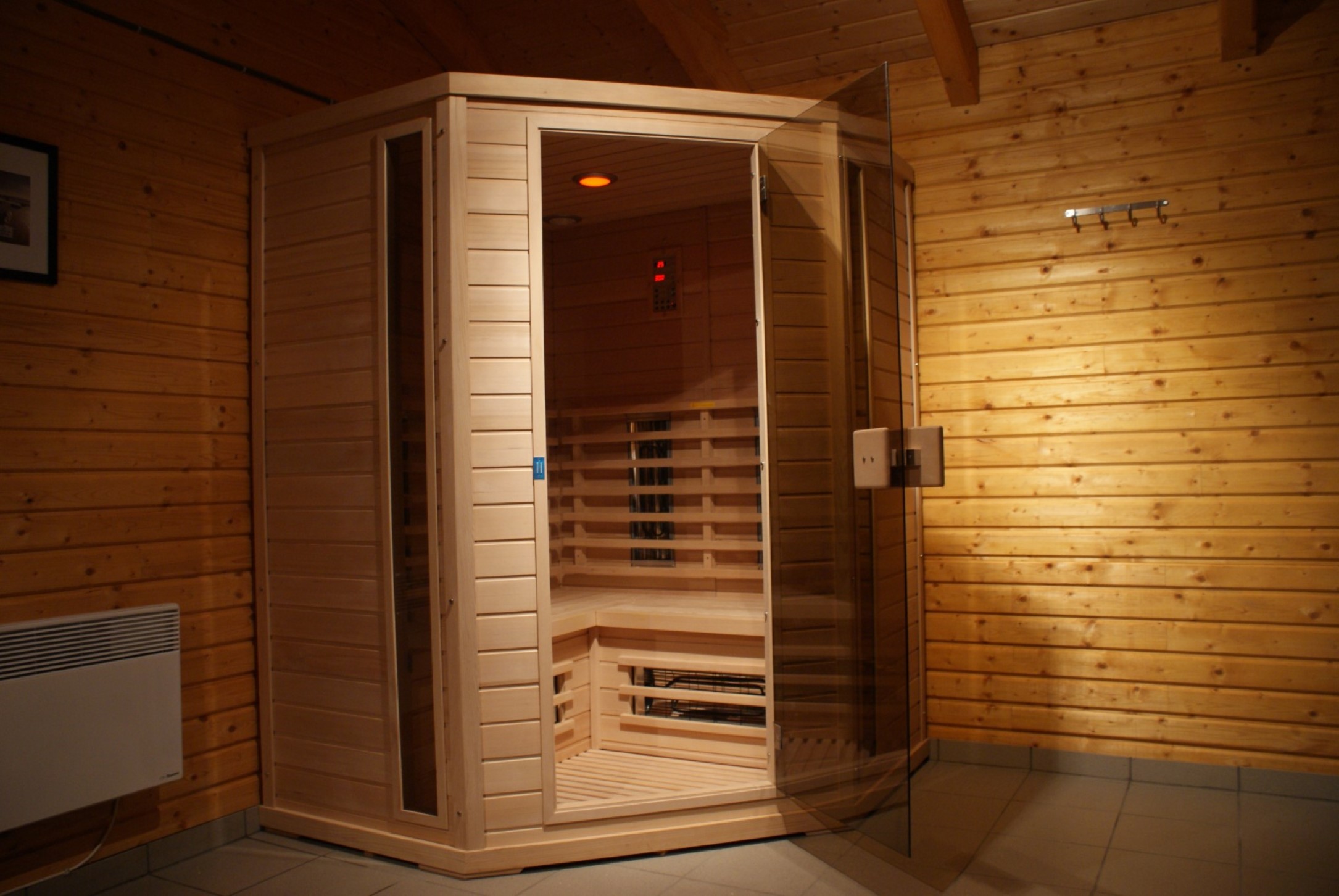 Prices
Outside holiday periodes
- Week - Friday 16h till Friday 10h - € 525,00
- Midweek - Monday 16h till Friday 10h - € 420,00
- Weekend - Friday 16h till Sunday 20h - € 315,00
- Long weekend - Friday 16h till Monday 10h - € 420,00
Holiday periods and periods with a week with a public holiday
- Week - Friday 16h till Friday 10h - € 815,00
- Midweek - Monday 16h till Friday 10h - € 470,00
- Weekend - Friday 16h till Sunday 20h - € 445,00
- Long weekend - Friday 16h till Monday 10h - € 470,00
Christmas – New Year
- Only renting per week is possible
Fixed extra costs
- water and electricity - € 25,00 / night
- mandatory final cleaning - € 92,50
- guarantee - € 300,00
firewood for the stove, tourist tax and reservation costs are included in the rent
Supplements (optional, but recommended)

- Sheets € 22,50 per bed / stay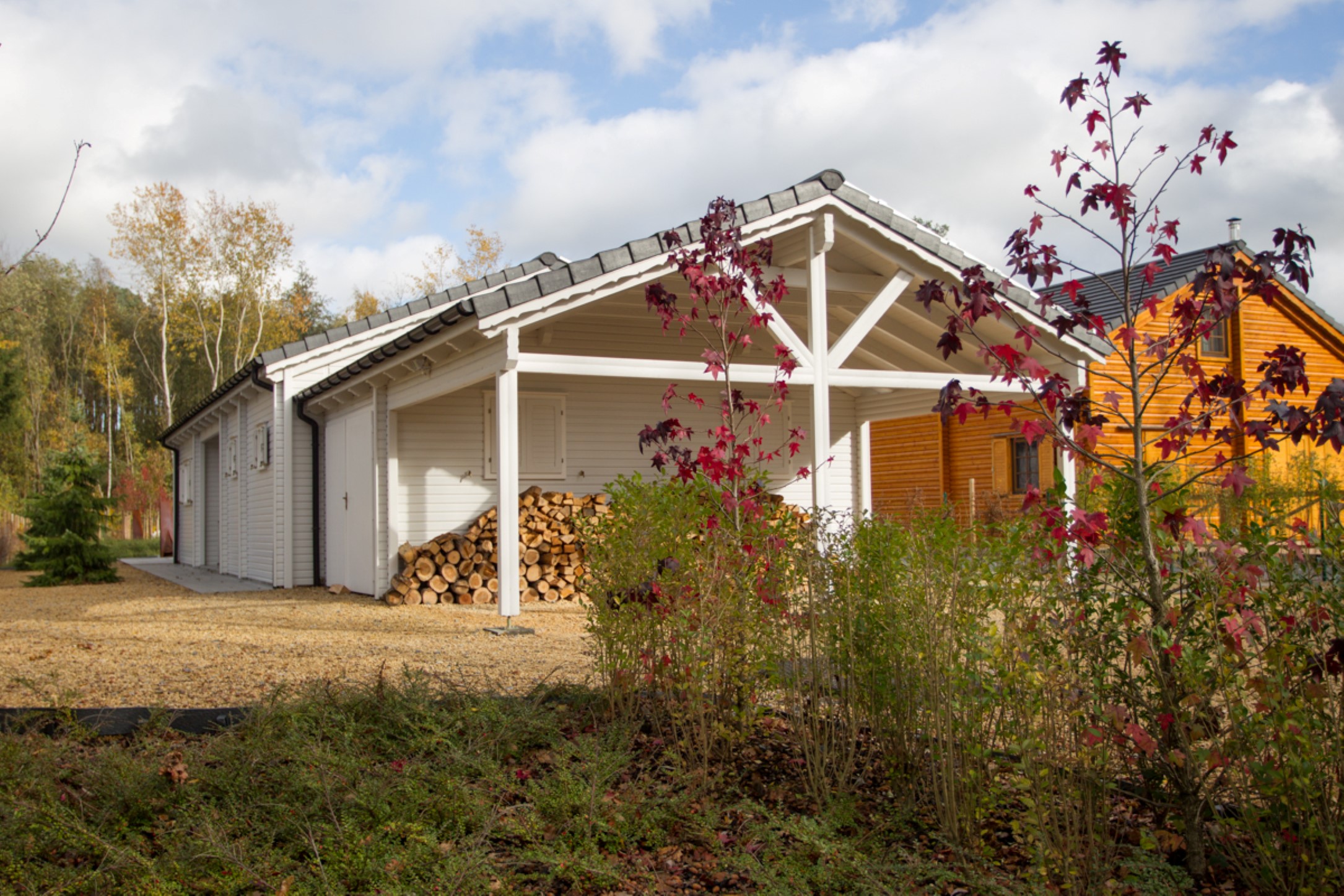 Additional acitvities and services
Additional acitvities and services
If you want, we can offer you some additional activities and services, which you have to book in advance: breakfast service, a visit (with or without guide) to the caves of Hotton, several activities in combination with Durbuy Adventure, ...
You can give us your wishes with your reservation of shortly before you stay in the chalet.
Please, feel free to contact us if you have any other wish.
Address
Chalet des Amis
Rue Vivier Del Haie 39
6997 EREZEE, Belgium
Directions
Email
Telephone
BTW BE0864.609.302 | RPR Gent, afdeling Brugge
Registered office: D.S.M.-LOGIES BV | Korte Vuldersstraat 13 | 8000 BRUGGE
BVBA D.S.M.-LOGIES verwerkt persoonsgegevens overeenkomstig deze privacyverklaring. Voor verdere informatie, vragen of opmerkingen omtrent ons privacy beleid, kunt u terecht bij ons per mail.
BVBA D.S.M.-LOGIES erkent dat de bescherming van de persoonlijke levenssfeer van een betrokkene een basisrecht is van elk individu en BVBA D.S.M.-LOGIES zal er dan ook alles aan doen om dit recht te vrijwaren door persoonsgegevens op een correcte, open en transparante manier te verwerken. BVBA D.S.M.-LOGIES weet dat het vertrouwen van klanten, medewerkers en andere stakeholders in de manier waarop persoonsgegevens verwerkt worden van cruciaal belang is voor de organisatie.
BVBA D.S.M.-LOGIES begrijpt dat het misbruik van persoonsgegevens een grote impact op de betrokkene kan hebben en daarom zal BVBA D.S.M.-LOGIES de nodige maatregelen nemen op de betrokkene te vrijwaren van financiële, reputatie of een andere schade.
BVBA D.S.M.-LOGIES verzamelt en verwerkt persoonsgegevens, voor klantenbeheer op basis van de contractuele relatie als gevolg van uw bestelling/aankoop en voor direct marketing (/om u nieuwe producten of diensten aan te bieden) op basis van ons gerechtvaardigd belang om te ondernemen.
Rechtsgrond(en) van de verwerking
De gegevens worden verwerkt met eerbiediging van de persoonlijke levenssfeer.
De informatie die verzamelt wordt overeenkomstig bovenvermelde bepalingen, wordt behandeld in overeenstemming met de bepalingen van de General Data Protection Regulation ofwel Verordening 2016/679 van het Europees Parlement en de Raad van 27 april 2016 betreffende de bescherming van de natuurlijke personen in verband met de verwerking van persoonsgegevens en betreffende het vrije verkeer van die gegevens.
Indien dit noodzakelijk is ter verwezenlijking van de vooropgestelde doeleinden, zullen de persoonsgegevens van de klant worden gedeeld met andere vennootschappen (van de BVBA D.S.M.-LOGIES groep) binnen de Europese Economische Ruimte die rechtstreeks of onrechtstreeks met BVBA D.S.M.-LOGIES verbonden zijn of met enige andere partner van BVBA D.S.M.-LOGIES. BVBA D.S.M.-LOGIES garandeert dat deze ontvangers de nodige technische en organisatorische maatregelen zullen nemen ter bescherming van de persoonsgegevens.
De persoonsgegevens verwerkt voor klantenbeheer zullen worden bewaard gedurende de termijn die noodzakelijk is om aan de wettelijke vereisten te voldoen.
Recht van inzage, verbetering, wissing, beperking, bezwaar en overdraagbaarheid van persoonsgegevens
De klant heeft te allen tijde recht op inzage van zijn persoonsgegevens en kan ze (laten) verbeteren indien ze onjuist of onvolledig zijn, ze laten verwijderen, de verwerking ervan laten beperken en bezwaar te maken tegen de verwerking van hem betreffende persoonsgegevens.
Bovendien, heeft de klant het recht om een kopie (in een gestructureerde, gangbare en machinaal leesbare vorm) van zijn persoonsgegevens te bekomen en de persoonsgegevens te laten doorsturen naar een andere vennootschap.
Teneinde bovenvermelde rechten uit te oefenen, wordt de klant gevraagd om:
zelf de instellingen van zijn klantenaccount aan te passen;
een e-mail te verzenden naar BVBA D.S.M.-LOGIES.
Direct marketing
De klant heeft het recht zich kosteloos te verzetten tegen elke verwerking van zijn persoonsgegevens met het oog op direct marketing.
Klacht
De Klant beschikt over het recht om een klacht in te dienen bij de Commissie voor de Bescherming van de Persoonlijke Levenssfeer (Drukpersstraat 35, 1000 Brussel - commission@privacycommission.be).